what might we learn about going through life
by attending to a most ordinary action: walking?
The old Zen way in China was to practice for a time in one monastery and then walk cross country to another monastery, rounding out one's understanding with the view from one mountain – then the next mountain. Zen masters and their mountains are indistinguishable.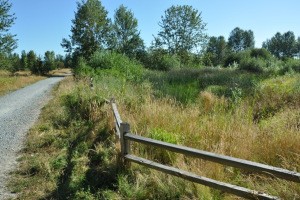 Retreat Information
Please join Three Treasures Sangha for a morning of walking and sitting practice enjoying silence and alertness in Magnuson Park, Seattle.
Schedule
When: Sunday May 31, 9:00am to noon, followed by lunch together
Where: Gather by 8:45am in the parking lot for orientation.
Download Meeting Place diirections to the starting place.
Download the route map to see the route that we'll be walking.
Bring: Walking shoes, sack lunch, water, rain gear if needed, and something to sit on – a pad. camp stool or cushion for 10-minute sitting periods on rough ground
Food: We will eat lunch informally at noon – visiting is part of the practice