Three Treasures Sangha is a lay Zen group, affiliated with the Diamond Sangha. Our practice helps us see and experience what is always right before us. We warmly welcome you to practice with us.
Our form is derived from Japanese Zen tradition, favoring simplicity. While we focus on individual sitting meditation (zazen), we also recite texts (sutras) together. Talks by teachers and private interviews with them provide a chance to ask questions and to refine our understanding. Our practice emphasizes paying attention in order to foster concentration and clarity of mind.
All aspects of Zen practice encourage us to experience the boundless totality available to us all — it is both personal and engaged with community and the world in which we live. We warmly invite you to join us.
Getting Started with Three Treasures Sangha
You do not need to be a member of Three Treasures Sangha to sit zazen with us. If you're a beginner, though, we do ask that you attend an orientation with us about how to sit zazen. You can learn more about opportunities to practice with us on the Our Practice page. If you'd like to become a member please visit our Join Us page.
Contact Information
Three Treasures Sangha
Dharma Gate Zendo
1910 – 24th Ave S.
Seattle, WA 98144
Three Treasures Sangha Mailing Address
P.O. Box 12542
Seattle, WA 98111
206-395-5226
ttssangha@gmail.com
Our Facilities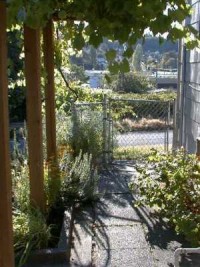 DHARMA GATE in Seattle is our primary zendo. This renovated house includes zendo, dokusan (interview) room, library, kitchen, and kinhin (walking meditation) garden. Our weekly and monthly sittings and garden retreats are held here.
The main entrance is in the back – there is street parking and parking in back off the alley.
We are currently conducting our non-residential sesshin (7-day retreats) at Dharma Gate.
Our facilities, both garden and house, need upkeep on a regular basis.  If you would like to contribute your energy you can sign up to help out here in  this Google Doc.
For members scheduling events at Dharma Gate, check the joint TTS-MCPS calendar by clicking here.
Dharma Gate strives to use cleaning materials, hand sanitizers, lotions and soaps that are fragrance-free and ecologically friendly.  The sanghas that own the building do not use incense and request that other groups that use the facility not use it.  We ask our members and groups using the facility to request that people attending events at DG avoid the use of personal products and clothing with fragrances on the day of the event.