Ultimately, Zen is about coming face-to-face with ourselves, in a very direct and intimate way. This is not easy. Our teachers challenge our thinking, while offering guidance and encouragement for our individual practice—whether breath-counting, koan study, or 'just-sitting' (shikantaza).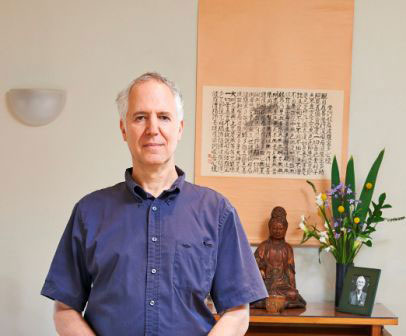 LEE SHIELDS was given permission to teach by Jack Duffy Rōshi in 2012 followed by independent teaching status in the Diamond Sangha lineage recognized in a formal Transmission Ceremony in November of 2021. Lee began practicing in a monastic setting during the early 1970s, sitting with several Zen teachers. In 1988, he joined Three Treasures Sangha and began studying with Joan Rieck. Jack Duffy became his teacher in 1992. As a lay practitioner, Lee balances marriage, family, and work, previously as an engineering consultant and now as a psychotherapist. Of importance to him is the interface of traditional Zen training with the daily, mundane, and extraordinary experiences of life.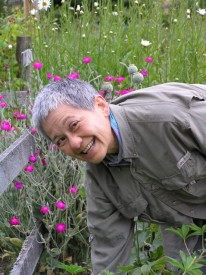 MADELON YAMANE BOLLING was appointed Zen teacher in 2012, as apprentice to Jack Duffy Rōshi. In long search for a spiritual home, she entered monastic life in another tradition in 1968, returning to lay life as a professional musician in 1974. In 1983 she began practicing in the Korean Zen tradition, eventually serving as dharma teacher until 1993 when she began sitting with Jack Duffy at Three Treasures. A retired clinical psychologist, she also bears the sensibilities of past work as a landscape gardener, master composter and permaculture designer.
---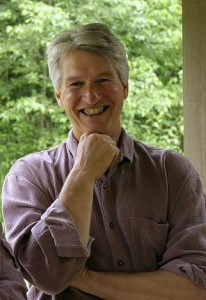 JACK DUFFY RŌSHI was the Three Treasures Sangha senior teacher until he retired from the position at the end of 2021. He was given permission to teach by Robert Aitken Rōshi in January 1992, followed by independent teaching status and the title of Rōshi in a formal Transmission Ceremony five years later. Jack became a student of Aitken Rōshi in 1981 and has also studied with Joan Rieck and Thich Nhat Hanh. He brings his roles of spouse, father, and psychotherapist, as well as years of endangered species work and wilderness wanderings to his teaching.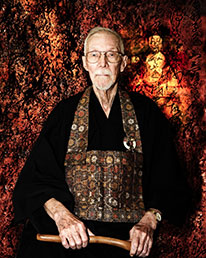 ROBERT BAKER AITKEN RŌSHI (June 19, 1917—August 5, 2010) was co-founder of the Honolulu Diamond Sangha with his late wife, Anne. He was an esteemed Zen teacher within the American Zen community many of whom turned to him for his wisdom and counsel. A lifetime resident of Hawai'i, he was a graduate of the University of Hawai'i with a BA in English literature and an MA in Japanese studies.
In 1941 he was captured on Guam by invading Japanese forces, and interned in Japan for the duration of World War II. In the camp he met British scholar R.H. Blyth who introduced him to Zen. After the war he practiced Zen with Senzaki Nyogen in Los Angeles and traveled frequently to Japan to practice in monasteries and lay centers with Nakagawa Soen Rōshi, Yasutani Haku'un Rōshi and Yamada Koun Rōshi. In 1974 he was given approval to teach by Yamada Rōshi (of the Sanbo Kyodan, Kamakura, Japan), and transmission as an independent master in 1985. He was a co-founder of the Buddhist Peace Fellowship in 1978 with his wife Anne and Nelson Foster (who he later authorized as a Diamond Sangha teacher). Aitken's students have opened centers in Germany, Argentina, Australia, New Zealand and the United States.
Aitken Rōshi retired in 1996 and after some years living on the Big Island of Hawai'i, he returned to live at Palolo Zen Center, where his students cared for him in his declining years. He died on August 5th, 2010 at the age of 93.