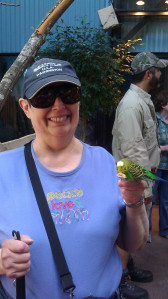 From Grace and Family
With a saddened heart, I want to let you all know that mom passed away this morning just before 10:45. My sister, Marian, arrived this morning from Japan, and we had around an hour together as a family, talking, chatting and having our usual family banter. My sisters left to get Marian settled and a nap, and about half an hour later, mom ended her journey. I want you all to know that during her decline this past week, she did not suffer, and all the way to the end, she did not appear to struggle against what was happening.

This entire process, as sad as it's been, has also been a wonderful experience. I cannot imagine how it could have gone smoother, and I know it's exactly what mom would have wanted for her, as well as for us. Per mom's wishes, we would like to have a ceremony/memorial on the 49th day. I'll be in touch as plans begin to take shape.
Thank you all for the calls, emails, fond wishes, and concern that you've shown over the last few months, and especially this past week. I know mom left us knowing that there is a community of people who will make sure her "babies" are supported through this.
Grace and Family
Grace's Words, Feb. 24th
Words do not begin to express how amazing and wonderful you all have been. One of my big fears of mom's being sick and passing was having to do it alone, and yet, here I find myself with SUCH an outpouring of care, concern, support….the list of adjectives goes on. I am deeply grateful that the last years of my mom's life have been surrounded by such a warm, open and caring group of people.
I'd like to share a story with you all about some conversations mom and I had over the last few weeks. As she has been becoming sicker, and needed more help, like getting rides to work, help with doctors appointments, etc., she was moved to tears at how everyone around her, without any obligation, came together to make sure she was taken care of. I was shocked when she told me that this was the first time in her life she was able to really recognize, accept, and embrace love. Of course, between you, me, and the lamp post, it's always been there, but I believe that it's been her journey with you in the Sangha that's helped her learn to be open to receive and recognize that love.
My family and I are humbled and blessed by your kind words, and willingness to take time out of your lives to care for mom and help us send send her on to her next journey. The ceremony today was beautiful, and for those of you who were here in spirit, your presence was felt and appreciated. Please feel free to let people know that they are welcome to come visit any time – the door is open.
Thank you.
Grace